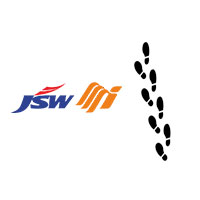 MISI World Walk
Our JV partner MISI had initiated a worldwide event "MISI World Walk" in the month of November for 30 days where all the MISI group organizations have participated with full enthusiasm. 120 teams comprising 1200 participants across the globe participated in this event.  The objective of this event was to increase health awareness among MISI families and encourage them to be healthy and fit.
JSW MI Family also took this opportunity to check their walking abilities, excelling with the milestones set for the day and month was too exciting and achieving the same was full of fun and energy. The competition was always stiff and planning the steps and improving the same gradually. All the participants from the JSW MI family felt like participating for the country as this event was on a global level. The team took so much of learning from this event as they have participated without impeding their duties and deadlines. It made them more energetic, focused and also learned to know effective time management. While the entire event was too encouraging, aligning the daily routine was always a challenge.
JSW MI Family is looking forward to the zeal to excel in such events in the future to create awareness and maintain the same level of enthusiasm among team members.